For those of you who follow me on Twitter, you'd be aware of my recent activities.
Professional Team Foundation Server 2013
The achievement I'm most excited and proud about is that I've published a book - Professional Team Foundation Server 2013!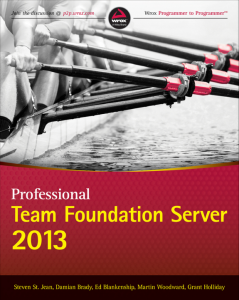 Professional Team Foundation Server 2013
As the saying goes, it's available at all good bookstores, but to help out here are some links to the book on Wiley's website, Amazon, The Book Depository, and Booktopia. Of course if you'd prefer an electronic copy, there's always iTunes, Google Play, and the Kindle store!
Tech Ed New Zealand
I also recently presented a couple of sessions at Tech Ed New Zealand.

My first session introduced the awesome new Release Management for Visual Studio tool. It gives you a great way to deploy your applications in a repeatable and predictable way. It's great for organisations that care about stable releases, governance, and deploying their applications quickly.

My second (and favourite) session was about the many extensibility points available to you in Team Foundation Server. This is a topic I became interested in while writing the Extensibility chapter in the book. I was amazed by how many opportunities there were to extend and customize Team Foundation Server. With the release of the REST APIs early this year, those opportunities grew even further. I'm really excited about the possibilities this opens up!

If you're interested in integrating Team Foundation Server or Visual Studio Online with your own applications, this session is definitely worth a watch.